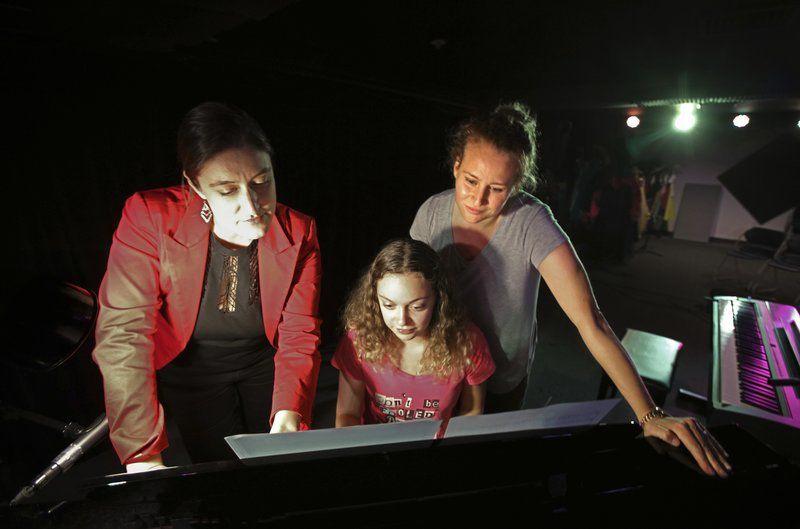 Teen learns the details of songwriting | Local News
When Tessa Barcelo was a baby, her mom and dad knew she was awake when they heard her sing on the baby monitor.
They also knew that their daughter, now 16, was destined to become some kind of musician.
"Ever since she was a baby, we knew that," said mother Tracey Spruce. Rather than cry, like most babies, Tessa had fun composing and singing songs.
It's something she still does.
Now, with help from the National Endowment for the Arts and the American Theater Wing, Andover's daughter is taking her skills to the next level.
Over the weekend, while other kids played video games or ran at sporting events, Tessa sat with New York theater professionals, reviewing the music and lyrics to her song. original, "Queen".
It was the last step in a process that saw Tessa win the Musical Theater Songwriting Challenge. She entered the contest in February and found out in July that she was one of six winners from across the country.
Since July, he has been meeting professionals from Broadway musical theater via Facetime. This weekend, she met them for real. On Saturday and Sunday, she spent time with Anna Ebbesen, an orchestrator and musical director with a long list of film and theater credits, as well as Anna Jacobs, a lyricist and composer with an equally impressive CV.
Together, they helped Tessa refine the music and lyrics for her song – a process that surprised Tessa, but also made her realize the importance of rewriting her work and collaborating with others.
"It was amazing," she said on Sunday, after meeting the theater professionals at Real Music School, 3 Dundee Park. "I started to think about things that I had never thought of before. Today and yesterday they would pick places in the lyrics or melodies and change them. Usually when I write songs, I'm not rewriting them. I'm learning the importance of rewriting. "
She said she was also learning to combine music with story and harmonies with piano chords so that the piece works well as a whole.
"I think she did a good job," Ebbesen said. "She has this character (in the song) who has the power to change the world through storytelling. Words are important. It's important to tell stories."
Tessa said the song originally came to her when she was working on a production of "Peter Pan". She realized that the roles of women in this play were subservient to men, whom she knew to be old-fashioned and outdated.
She said she changed some of Peter Pan's lyrics and then wrote "Queen".
Because it's a song for musical theater, it has multiple characters singing lines as if it's part of a larger production. Although a production is not the goal of this program, Tessa said she would like to write an entire piece around the song, which she believes empowers women.
In an exchange, the sirens sing lyrics that reflect part of the dialogue in today's news.
"Now that Iana is queen, our kingdom is so much better," sings one mermaid to another.
"Yeah! We have better health care, affordable housing…" the other sings.
"And equal pay for sirens and sirens!" answers the first siren.
On Sunday, Tessa's friends Amy Cain and Julia Toomey sang the parts while Tessa and Ebesen worked on the piano.
Ebbesen explained that the next step for Tessa is to go to New York in October and record the song in a studio, working with professional actors.
"I'm going to orchestrate and do the recording session with some people from Broadway singing his music," Ebbesen said. The lead role will be played by Hailey Kilgore, known for her role in the Broadway revival of "Once on This Island," which earned Kilgore a 2018 Tony nomination for Best Actress in a Musical.
Tessa's mother and father, Trevor Barcelo, said they were impressed with their daughter's experience.
"The NEA and the American Theater Wing have been incredibly helpful and supportive," said Tracey Spruce.
Trevor Barcelo added, "Not many people think of what it's like to write a song. You just have to listen to it. But it has been quite fascinating to see the amount of work and rewrite that goes into it. "
||||